Being a Purina Certified Expert Dealer means that we offer a complete line of quality Purina feed products and have knowledgeable associates who care first about our customers, and their animals. Training is a key element for our Certified Expert staff and you can depend on us for Certified Expert advice!
Expert Articles & Advice
May 1, 2013
When there's hot weather outside, it's essential that you keep your horses cool. Here are some tips on keeping their temperature regulated even when the weather is hot: Water The most obvious thing to keep an eye out for is also one of the most important.
May 1, 2013
If you're chronically running into your garden, fence or a tree with your lawn mower just to get to the grass, it has probably sustained a lot of damage and left a lot of grass untouched. To avoid these problems, owning or renting a weed eater can help you.
Special Offers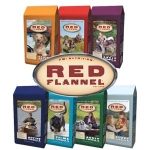 As a part of our customer loyalty program, we are offering buy 8, get 1 free on Red Flannel dog foods!
Purina Equine Videos
At Purina, we've spent more than 100 years developing superior nutrition for horses. After numerous scientific formulations, trials and refinements for our new line of supplements, we've found ways to give horses the boost they need to be their best.
Quick Contact & Hours
Manager: Chloe Ellis
4865 Hwy 234
White City, OR 97503
Phone: 541-830-4600
Fax: 541-830-4639
Email:
chloe@raineyscorner.com
Mon - Sun
7:30 am - 7:30 pm